9 comments | Monday, August 25, 2008

Lots of stuff to showcase today, that's for sure.....I can't believe I got it all done!

Let's start with the all the new stuff I loaded in the store today. Wow, that was a lot of work. Not only making the previews takes a lot of time but uploading them via ftp and then loading them into my store takes a lot of time, too. Hard to do with two little ones running around!

And, before we move onto the new product previews (which are all clickable---just click on the product to get to it in my store), until August 31st you can save 40% on all orders over $15. Use the coupon code

newfishstuff

and make sure you put the coupon in the box at the bottom of the shopping cart page prior to moving on to check out in order to redeem the savings. And, I had several requests to keep my Olympic "buy my store" product available until the end of August, aka payday. So if you want, you can still purchase my store for $50 BUT all the new products added today and from this point forward are not included in that deal. Okay? I don't want anyone mad at me!!!

The only personal use product I have that is new is

"A Lot of Felt."

And let me tell you, there is a lot of felt here for $5.

Thirty pieces

in a wonderful array of colors. Check it out: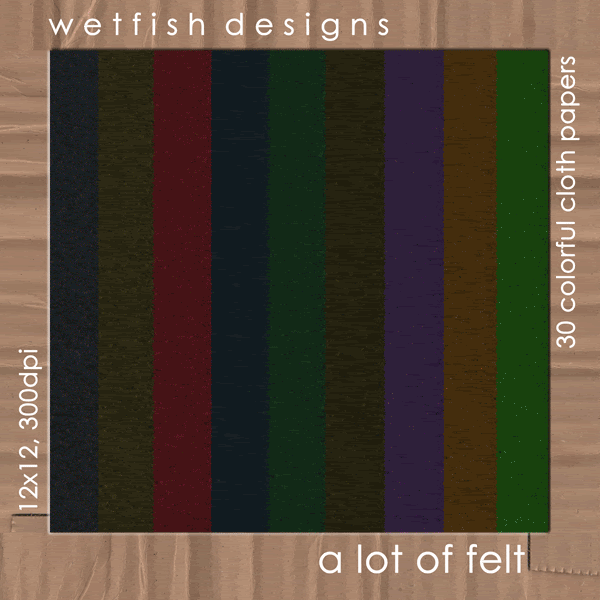 Now, after sifting through all of the above, you deserve these....click on the image to download......
And believe it or not, they'll be more new stuff tomorrow. I just have to finish previews and upload them. I am dedicating myself to scrapping all the photos I haven't been able to scrap this summer. So I'm getting all the new products in the store to free up a little time to scrap. And, if you didn't know this, I am now on the Administration Team at Divine Digital. I need to have some time to learn the ropes. So after I get all this new stock in my store, there won't be much new until the end of September. Or so I say....LOL
Enjoy the freebies and leave a comment and say hi if you download,
Best,
Cyndi