3 comments | Thursday, October 02, 2008

Well here we are on Day 2 of Divine Digital's "Passionately Pink Blog Party." Before I share my fav pink item or something I am passionate about, I wanted to post some breast cancer info since our "Passionately Pink" theme is all about breast cancer awareness. So please take a look at these and forward to a friend or two:

And in keeping with the breast cancer theme, tomorrow I go for a mammogram. :)

Also, a customer forwarded this video to me and asked me to share it with you and for you to share it with someone, too:

Now, onto something pink that I love. I'd have to say I love my Eliza B pink ribbon flip flops. They are worn in and so, so comfy. I wear them all summer even when they don't really match my outfit or swimsuit. I just love them.

Yesterday I left a huge list of books to site my passion for reading, so today I'll take it easy on your eyes and make it short. I am passionate about so many things it is hard to narrow it down to just a few to share while the blog party is here. But I guess I can say that I of the many things I am passionate about, my passion for quotes is at the top of my list. I love quotes. I find them everywhere, save them and share them. Quotes inspire me, take the place of my own words when I can't seem to say what needs to be said, and quotes ring true in so many different ways, to so many different people. So, that said, here are some of my favorites---I'd have to write a book to give you all my favorites:

Life is not a dress rehearsal. Everyday, you should have at least one exquisite moment.

--Sally Karioth

Empty pockets never held anyone back. Only empty heads and empty hearts can do that.

--Norman Vincent Peale

Creativity is piercing the mundane to find the marvelous. --Bill Moyers

It takes two to speak the truth -- one to speak and another to hear.--Thoreau

Sometimes when I consider what tremendous consequences come from little things -- a chance word, a tap on the shoulder, or a penny dropped on a newsstand -- I am tempted to think...there are no little things. --Bruce Barton

I take nothing for granted. I now have only good days or great days. --Lance Armstrong

There are no days in life so memorable as those which vibrated to some stroke of the imagination. --Ralph Waldo Emerson

In giving you are throwing a bridge across the chasm of your solitude.

--Antoine de Saint-Exupéry

There is a spark of good in everybody, no matter how deeply it may be buried, it is there. It's waiting to govern your life gloriously. --Peace Pilgrim

Give, give, give -- what is the point of having experience, knowledge or talent if I don't give it away? Of having stories if I don't tell them to others? Of having wealth if I don't share it? I don't intend to be cremated with any of it! It is in giving that I connect with others, with the world and with the divine. --Isabel Allende

What we plant in the soil of contemplation, we shall reap in the harvest of action.

--Meister Eckhart

Every child is an artist. The problem is how to remain an artist once we grow up.

--Pablo Picasso

Three things in human life are important. The first is to be kind. The second is to be kind. And the third is to be kind. --Henry James

The vision must be followed by the venture. It is not enough to stare up the steps -- we must step up the stairs. --Vance Havner

Tomorrow is my first day as the featured designer for the October Download a Day at Divine Digital. So make sure you drop on by my blog after you download my freebie at Divine Digital because I'll be sharing blog freebies that coordinate with "Hook and Ladder" here, too....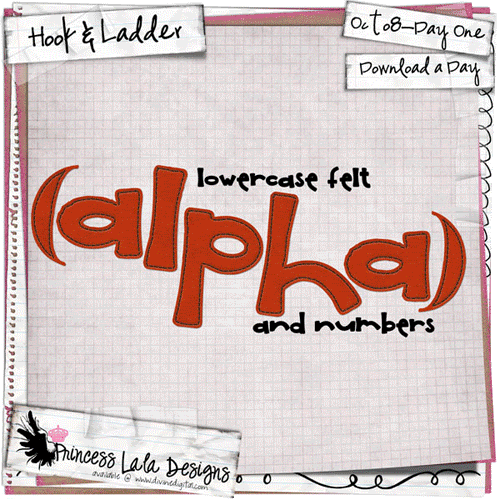 The Divine Digital October Team Collabrative Kit, "Divine Pumpkin Patch" just hit the boutique....click on the image to get to the kit in the store:
And now, here is my "Passionately Pink" freebie for Day 2 of the blog party. Click on the image to get to the download and I'm still enjoying all the pink things everyone loves, so tell me about one of your pink favorites when you download:
See you tomorrow for my last day with the blog party and my first day of "Hook and Ladder" freebies....
Best,
Cyndi