63 comments | Sunday, February 01, 2009

Before we get into the "super" parts of this post, I want to mention that I am running a special on my blog sale items right now---the Vintage Valentine's (set of 36 for $8.99) and the Handmade Clay Layer Styles (16 for $8.99).

Purchase either one and get a $5 coupon good to use in my Divine Digital boutique that won't expire until March 31st!

Wait, it gets better.....Purchase both the valentines and the layer style bundles and you will get a $10 coupon! How is that for a sweet Superbowl surprise?

Click

HERE

to order the Vintage Valentines:

Click

HERE

to order the Handmade Clay Layer Style Bundle (scroll down a bit to get to the styles in this post):

If you aren't already on my email newsletter list, please sign up! I am rebuilding my subscriptions and would love to add your name to my list! I send out email newsletters every Friday that include a Friday Five coupon (either a straight five dollar coupon or five dollars off a product or certain amount of order) as well as highlight sales, new products and other fun things going on in my crazy digital scrapbooking world. So sign up, okay? Send an email to

cyndi@divinedigital.com

and put "subscribe" in the subject line.

If you sign up this weekend you will be eligible for this weekend's coupon which is actually a Friday Seven since it is $7 off my Abstract Overlay Collection (get ten sets of overlays for $3 with the coupon!).

So subscribe and start saving with Wetfish Designs!!!!

Click on my preview to download my portion of "Forever Mine." Remember, personal use only. Next stop on the blog train is Creations By Rachel, so go see what she has for you for this amazing kit. She will the guide you to the next stop or should I say "station" on the blog train.




This blog has a complete list of ALL participating designers. So check it out and see who is participating and where you can go to grab more if for some reason there is a break in the track of this blog train.

And now, it is time for some nostalgic Hollywood!!!!!!



Today is Day 1 for
"Hollywood & Vine"
the Download a Day kit at Divine Digital. Get my Divine portion in this thread until tomorrow (remember, the download is only up for 24 hours!):
And here is my freebie to go with it---I will have a freebie that matches "Hollywood & Vine" each time that I am the featured designer. Click on the image to download and this is personal use only and PLEASE leave a comment here on my blog and let me know if you like our vintage Hollywood kit and my "Forever Mine" kit!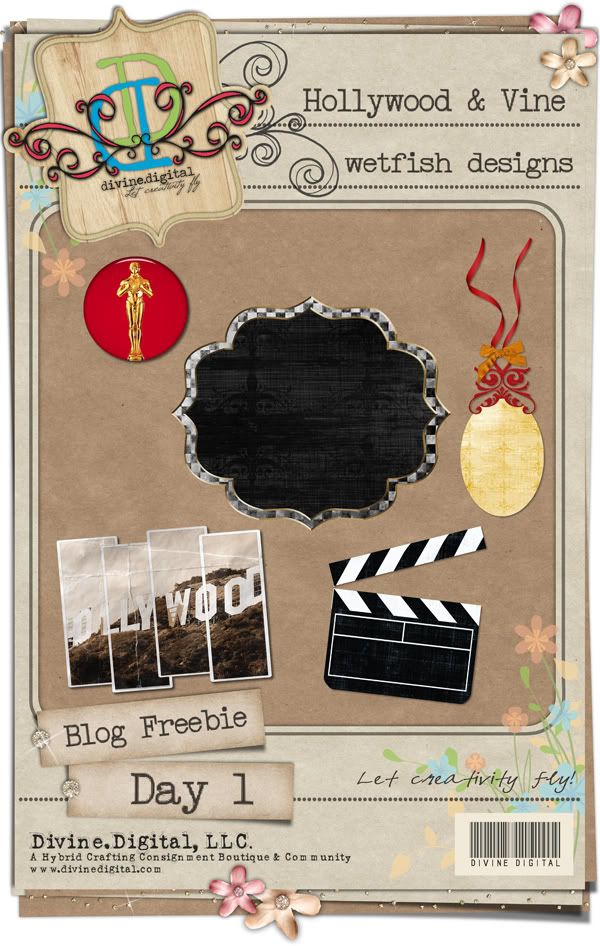 And if you've read this far, I have a CU freebie for you! I'm working on a lot of new things for my boutique at Divine Digital and these are two "leftovers" from my new set of CU overlays that I am calling "Museum Overlays." Click on the image to download and please say hi here or at 4shared when you do. I love to read all the comments and it keeps me inspired to continue with the freebies! This duo of overlays is commercial use okay, so have fun using them in your designs!