4 comments | Friday, October 03, 2008

Well, today is the last day that I am hosting the "Passionately Pink Blog Party" on my blog. From here it goes to the following "divine" designers: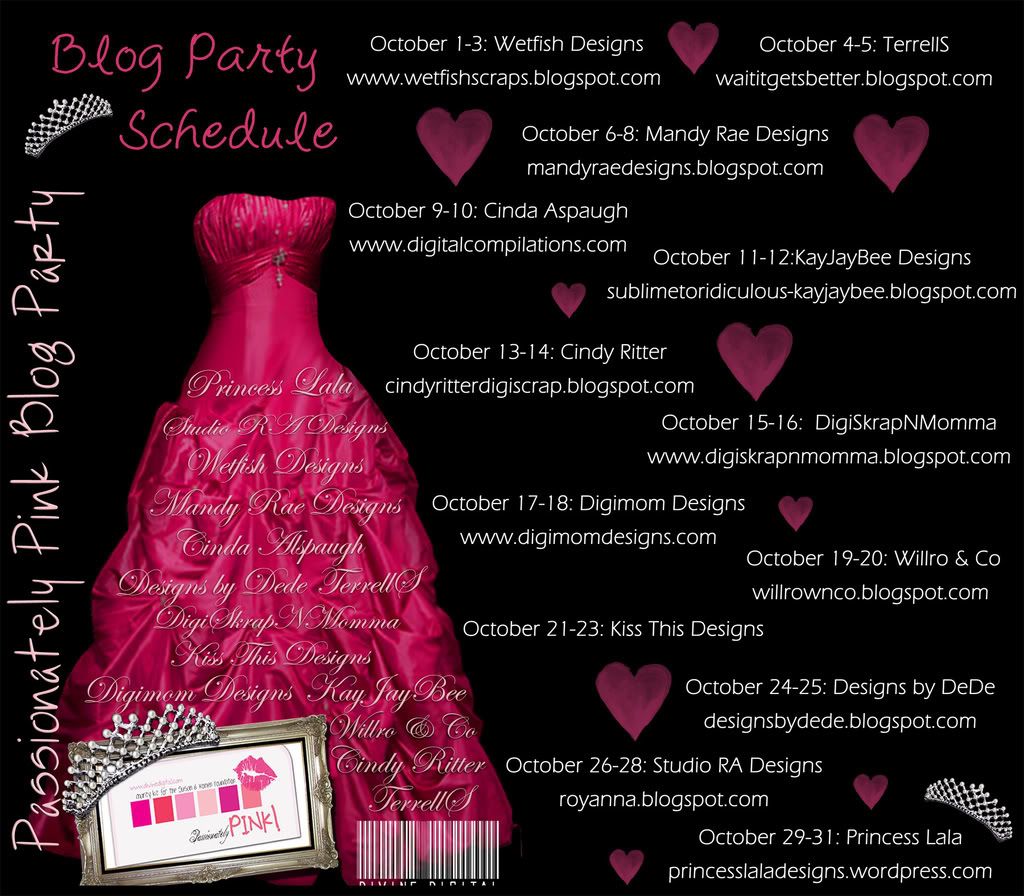 In case you can't read this schedule, it next goes to TerrellS and her blog address is:
waititgetsbetter.blogspot.com


Now, my last day to share one of my passions and something pink that I love. First the pink item. I love cotton candy. Love it. Love it. Love it. And it has to be pink cotton candy, not blue or purple. Pink. I don't know why I love it so much but one reason might be that it is one of those items that reminds you of childhood. I used to get some whenever we would go to our local amusement park, Kennywood, in Pittsburgh. And I remember how they used to have the cotton candy vendors making it on the spot (not selling it premade in plastic bags like they do now). I vividly recall the sound of the sugar spinning and the smell of the sugar as it spun round and round and then floated on to the paper cone. I just love cotton candy!
So I've shared my passion for reading and quotes, today will be music and more specifically my iPod. I love my iPod. It isn't pink, it is that "old as dirt" white one (that is what my 16 year old niece calls it) that doesn't really do anything but play music. My iPod takes me away to my own little world no matter where I am. I have a million playlists, one for just about every mood I could possibly be in. Right now I've been listening to a lot of Mozart. What are you listening to? When you download this freebie, tell me a song or artist you have on your iPod or in your car CD player.....

And today is m first day as the featured designer for the October Download a Day, "Hook and Ladder." First is the freebie you can snage
IN THIS THREAD
at Divine Digital and following that is my blog edition for Day 3:
Click on the image to get to the download and leave a comment and send friends here to download:
And today I also have a commercial use collab grab bag with Cindy Ritter on sale at Divine Digital. Click on the image to get to the grab bag in our collab store (it is FULL of fun designer tools!)

So thanks for partying with me these past three days and I'll close this post on a positive note--my mammogram was all clear so until next year I'm happy as pink cotton candy!
Best,
Cyndi, Wetfish Designs