11 comments | Wednesday, October 15, 2008

Well, my long weekend left me too tired to post on Sunday, so today I am sharing two "Hook and Ladder" blog freebies---Day 12 and Day 15....click on the images to download and say "hi" when you do......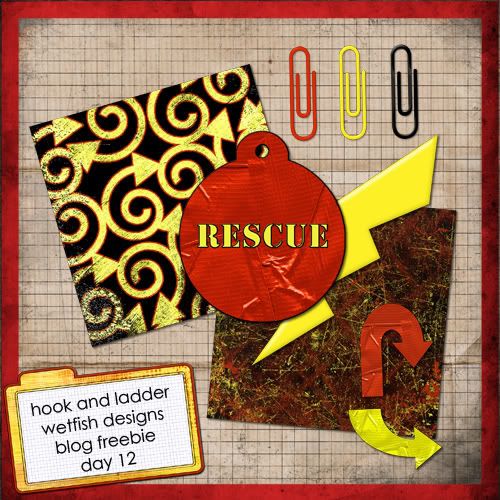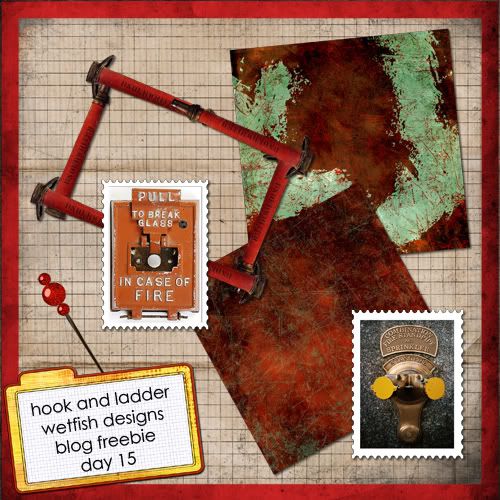 And here is the download at Divine Digital today......get it in
THIS THREAD
!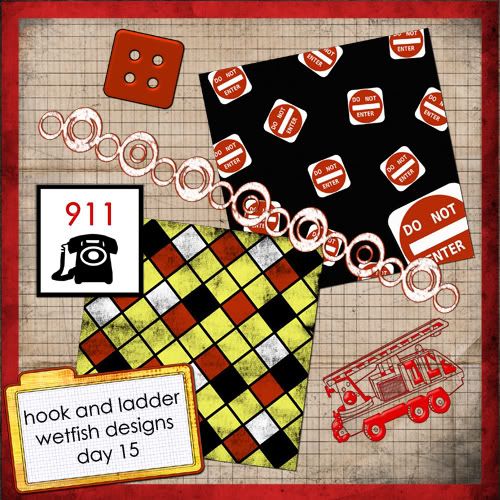 And tomorrow I have a kit featured as the Divine Diva Deal---check it out: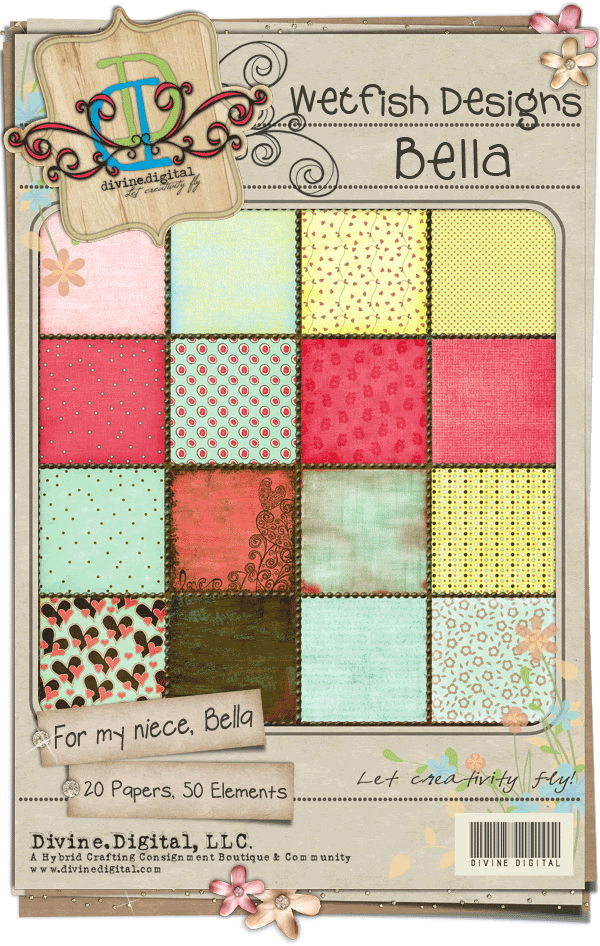 But today why not grab this fabulous collab kit I made with Royanna---"French Country!" It is a fabulous kit and there are lots of layouts shown with the listing so you can see all the possibilities of this kit....here's a look at what is waiting for you with "French Country"......
"French Country" is a french rooster inspired mega kit collaboration from Wetfish Designs & Studio RA Designs. Come travel the back roads of France to the beautiful countryside through cafes and natures beauty - through the eyes of two Divine Designers, Cyndi Wetmiller & Royanna Fritschmann. This universal kit has a lot to offer from the hand crafted wrought iron elements, unique alphas & gorgeous French rooster patterning to the French Country grunge textured papers. This must have kit is one of a kind and is perfect for a variety of layout themes and styles! Come travel with us....and get lost in the French Countryside. Kit Includes: 26 Papers, 2 Alphas, 3 Chandeliers, 12 journaling mats/elements/labels, 5 floral stamps, 2 Flowers, 4 leaves, 8 borders/trim, 7 frames, 1 bracket, 1 corner, 4 embellished elements, 1 rooster stamp, 2 fluerdelis, 6 roosters, 2 vine hearts, 2 tags, 1 ribbon, 3 wrought iron elements
Click on the image to get to the product in our collab boutique and enjoy this wonderful kit if you make the purchase!

I have a few new products in the works that will be hitting my boutique later this week. But I'm curious....is your digital scrapbooking spending down or suspended due to the economy? I've noticed that with my boutique it was like as soon as the bad news about the economy hit my sales went down to next to nothing. So I'm curious, is it me or the economy? Help me out as I'm really discouraged!
I'm off for a hayride with my boys and my parents......and then off for a drive up to "World's End State Park" to catch some refreshing glimpses of nature at its best. Hopefully I'll have some time to post photos of the beautiful fall leaves of North Central Pennsylvania.
Have a great day!
Best,
Cyndi