4 comments | Saturday, October 18, 2008

Today is Day 18 for "Hook and Ladder," the Download a Day kit at Divine Digital. I've got two freebies for you, one at Divine Digital

IN THIS THREAD

and another here on my blog. Click on the images to get to the download. And if you do download, and I hope you do, say hi and let me know how you are liking this "all things fire" kit. And remember, personal and scrap for others only. And send people here to my blog to learn about the freebies.
If you didn't know this already, I am the
"Divine Diva"
this week and have a kit featured all week for just $2.
"Bella"
is a very "heavy" kit, with 20 papers and 5o elements. It is a kit inspired by my niece, Bella, and all the colors of her fabulous wardrobe. A great buy for just $2! Click on the image to get to
"Bella"
in my store. Sale ends at midnight on Wednesday and I'll be posting a challenge with the kit on Monday. So stay tuned for news about that, too.
Also, we're continuing our month long celebration at Divine Digital for Breast Cancer Awareness with our
"Passionately Pink"
campaign. If you haven't joined the blog party, it isn't too late to go and pick up the pink party favors the designers have for you. And if you haven't picked up my blog party goodies they are still posted back a few threads. Here is the schedule so make sure you don't miss any of the party hosts and the fantastic pink party favors they have for you: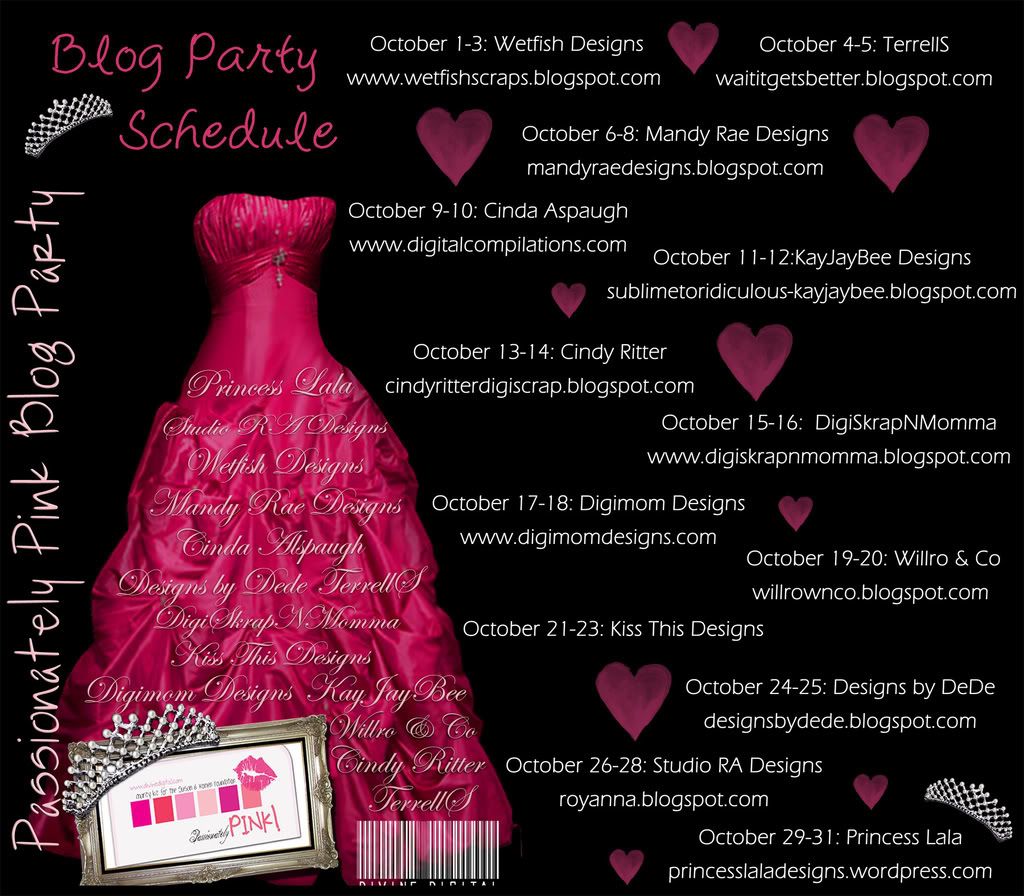 Blogger has really distorted this ad so if you can't read the details, go to this thread and get the schedule in a more clear form:
http://www.divinedigital.com/forums/showthread.php?t=8099&page=9
And I have a few new things in my store this week that I'm itching to share.....

Check out all these and more in my boutique:
http://www.divinedigital.com/boutique/manufacturers.php?manufacturerid=71

And don't forget that my
60% off Commercial Use Sale
ends at midnight tonight...don't turn into a pumpkin without your CU stash! This sale includes NEW products just added this week, so stock up before the clock strikes midnight!
Coupon Code: save60
Save 60% on all orders over $25. Coupon exprires October 18th (that's tonight!) at midnight.
And we just had a really nice visit with my parents before the boys got sick. We went on a hayride to the pumpkin patch with the boys' preschool and then we took a drive up to the Endless Mountain region of Pennsylvania to visit Eaglesmere and World's End State Park. Here are some shots of our little fall excursion to celebrate the changing of the leaves and the end of summer......the photos are not touched up yet but I wanted to share how beautiful it is this time of year in Central Pennsylvania.....and share some photos of my boys since I haven't posted any since we were in Maine this summer....


Finally, I was asked to post this memorial video for one of my customers. Please take a moment to view the video and share it with others.






Have a wonderful rest of the weekend and I'll be back on the 21st, this Tuesday, with some more "Hook and Ladder" freebies.
Best,
Cyndi, Wetfish Designs